With its high ceilings, private bar and custom picture wall- the Traditions room is the perfect Northern Virginia venue for social occasions. This space provides direct access to our spacious veranda which overlooks our skyline of the Blue Ridge Mountains.
On the other side, guests get a picture-perfect view of our vineyard and occasionally, our animals! This is the perfect space to host your next holiday party or cocktail hour and can easily accommodate up to 80 guests.
Cozy up with a glass of Blue Valley wine next to our stone fireplace in the Heritage room. Beautiful chandeliers and sky-lights are only the beginning when it comes to this space. One side overlooks the vineyard, while the other features a show-stopping view of the Blue Ridge Mountains. This room provides direct access to the sunset terrace and can accommodate up to 60 guests.
The loft provides a breathtaking panoramic view of the Blue Ridge mountains and the Celebration Room. Equipped with a gorgeous marble fireplace and unique chandeliers, this space can be customized to accommodate up to 120 guests, perfect for a scenic Virginia corporate function.
The main tasting room, also known as the Celebration Room is always the star of the show. Home to the most exclusive Virginia vineyard weddings, this space features two spacious bars, made from 200 year old oak which was sourced from the property and then hand-made by John (Yianni) Zissios.
This venue also boasts large glass windows that provide an unbeatable view of the Blue Ridge mountains, three flat screen T.V.'s, festive bistro lights, high ceilings with exposed wood beams and a cozy fireplace. The Celebration Room can comfortably accommodate over 200 guests.
You might find yourself in another world when you enter the barrel room. The sky-high ceilings are draped with elegant chandeliers that provide romantic, sepia-toned lighting, completing the mood for a picturesque rustic Virginia wedding.
The walls are embroidered with hand-cut stone that came from our property and guests will find themselves surrounded by tiers of french and american oak barrels which are gracefully aging our award-winning Blue Valley wine. This space is unique, and designed to make any guest feel like they've just entered a castle. The barrel room can easily accommodate up to 120 guests and can be decorated to capture a variety of creative visions from weddings to corporate functions.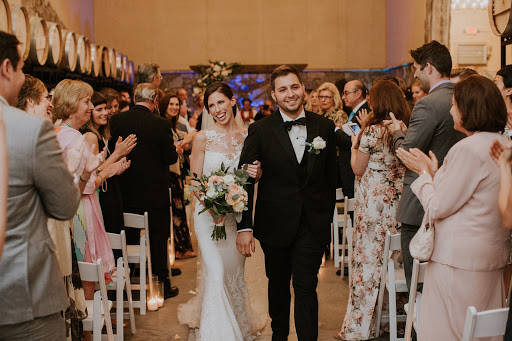 Elegant, unique, and romantic. From floor to ceiling, guests can admire the precise craftsmanship of hand laid stonework. Decorated with farm tables, wine barrels and candle-draped chandeliers, the cave is unlike anything you have ever experienced. Comfortably fitting 40 guests, this is the perfect space for themed parties or smaller affairs.
The bridal suite is a wedding day oasis. Brides can prepare for the biggest day of their life while enjoying a champagne bar and gazing at the skyline of the Blue Ridge Mountains. Complete with a full bathroom, floor length mirror, private entrance and comfortable furniture, the bridal suite allows for a luxury wedding day experience.